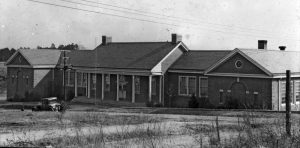 The Community Family Life and Recreation Center at Lyon Park embodies the rich legacy of the building and community in which it is located.
Originally built as the Lyon Park School when Durham's schools were racially segregated, it opened for the 1922-1923 school year to serve children of the African-American and predominantly blue-collar families living in Durham's West End. Local residents donated their own money and helped raise other funds to construct the school on the two-acre site at the intersection of Kent and Halley Streets.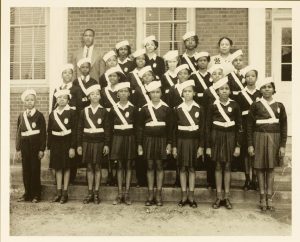 For more than 60 years, the Lyon Park School served its community. Through world wars, political turmoil, civil unrest and times of prosperity, it was an educational, recreational and social hub. Then, as so often happens, the school was closed and sat empty for many years. It was boarded up and vandalized, becoming an eyesore. Some longtime local residents moved away. Nearby homes were also boarded up, crime and drugs increased and many remaining residents became disenchanted.
Then, in the 1990s, Pastor Fredrick A. Davis spearheaded a group of forward-thinking members of the congregation of First Calvary Baptist Church, which had served the community since 1884. They and others launched an effort to reclaim the abandoned school. These visionaries believed it could once again serve as a community hub and help to revitalize Durham's West End. In 1992, they formed the Calvary Ministries of the West End Community, Inc. as a 501(c)3 nonprofit organization to address the situation. The organization is now known as the West End Community Foundation, Inc. (WECF).
Under the leadership of Pastor Davis, WECF approached the City of Durham to convince the citizens of Durham that partnering to restore the building would be worthwhile financially and more broadly. In 1996, the citizens of the City of Durham agreed, approving a $6.4 million bond to pay for extensive renovations. Six years later, the beautifully transformed building reopened, renamed as the Community Family Life and Recreation Center at Lyon Park.
Since opening in 2002, the center has helped to spark a revitalization of the West End community.  Its education, community development, health care and human enrichment activities have served thousands of local residents. Children have received free tutoring, mature adults have attended social programs, families have received health care, sports teams have competed in the gym and much more.
Simultaneously, the center has celebrated its special history and championed the community's ongoing struggle for social justice. WECF believes in preserving the African-American culture and heritage of the Lyon Park School and its surrounding community so they are not forgotten. Proud of its origins and committed to serving the people of Durham, the Community Family Life and Recreation Center at Lyon Park is not just located in its community; it is of its community. It welcomes you to get involved in its activities.