MENTAL HEALTH SERVICES: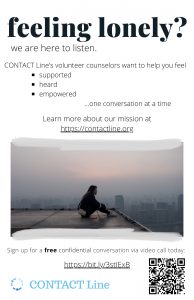 COVID-19 RESOURCES:
Check out this link for COVID-19 Resources and Volunteering Opportunities.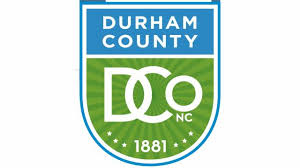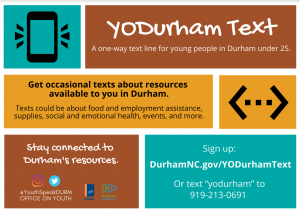 YODurham Textline for Youth
The Office on Youth has created a one-way text line for young people in Durham. The YODurham Text Line is a resource-sharing tool for young people in Durham under 25 years old. Young people can sign up for the text service and receive weekly updates about the resources and opportunities available to them. Texts will be in English and Spanish, and will include a phone number in case help is needed to navigate any of the resources shared. Young people can sign up on our website at https://DurhamNC.gov/YODurhamText. Those without web access can text "yodurham" to 919-213-0691.
SUPPORT FOR FAMILIES: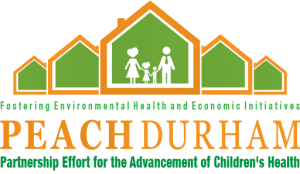 Partnership Effort for the Advancement of Children's Health (PEACH) and Beyu Caffe will be partnering over the next couple of weeks to help feed single mother's and families for Mother's Day.  We will be distributing food boxes that contain frozen entrees to feed a family for up to 7 days.  Distribution will take place from April 29, 2021 through May 6, 2021.  If you know of any single mothers (and single fathers) that may benefit from this food distribution, please contact Kimberlee Wynn,  kimberlee@peachdurham.org for more information.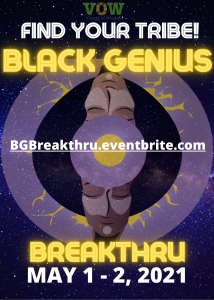 Calling all Black Genius Protectors! Do you have a burning desire to make a difference in the lives of Black children? Do you know what education should look like for Black students, but just don't know where to start? Carving out the time and space to plan our liberation can be challenging at best and building a community to do it with can be even harder! Well, we've got you covered. Village of Wisdom is a living community of dreamers, believers, and freedom keepers. We actively work towards liberation and are seeking fellow Black Genius Protectors to join our village! We want to help you find your Tribe. The Black Genius Breakthrough Experience (BGBTE) is the first stop in the RITES Black Genius Activation Portal. Save the dates for May 1 – May 2 for this transformative, community-finding experience. Seating will be limited. Reserve your spot by registering here! Please contact Taylor Webber-Fields at twebberfields@villageofwisdom.org for more information.