MENTAL HEALTH SERVICES:
COVID-19 RESOURCES:
Even though our vaccine clinic has ended, there is still an opportunity for you to get vaccinated:
Vaccinations for those In-Home & Other Vaccine Questions
Are you unable to leave home and get your vaccine?
To slow the spread of COVID-19 and help North Carolinians protect their communities and families, the North Carolina Department of Health and Human Services (NCDHHS) announces a statewide initiative to provide free COVID-19 vaccinations to people who stay at home because of limited mobility. NCDHHS is working with Piedmont Triad Regional Council (PTRC) to help expand on existing models, reaching further into communities in the state.
For anyone in North Carolina who finds it hard to get out and needs the free, safe, and effective COVID-19 vaccine, please complete the form in the link below or call 866-303-0026. A PTRC staff member will follow up with a phone call within three business days.
COVID Vaccine for Home Visit Form
The PTRC AAA is working with NCHHHS to launch the At-Home Vaccination Hotline throughout North Carolina.
Check out this link for COVID-19 Resources and Volunteering Opportunities.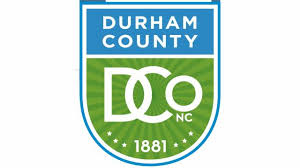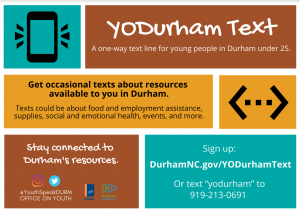 YODurham Textline for Youth
The Office on Youth has created a one-way text line for young people in Durham. The YODurham Text Line is a resource-sharing tool for young people in Durham under 25 years old. Young people can sign up for the text service and receive weekly updates about the resources and opportunities available to them. Texts will be in English and Spanish, and will include a phone number in case help is needed to navigate any of the resources shared. Young people can sign up on our website at https://DurhamNC.gov/YODurhamText. Those without web access can text "yodurham" to 919-213-0691.