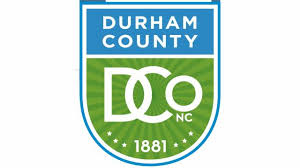 COVID-19 RESOURCES
Check out this link for COVID-19 Resources and Volunteering Opportunities.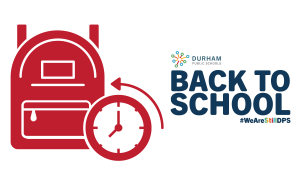 NAVIGATING VIRTUAL LEARNING
To find all of the information that you need to help your child be successful with virtual learning, click here.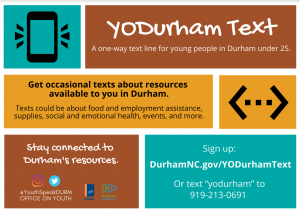 YODurham Textline for Youth
The Office on Youth has created a one-way text line for young people in Durham. The YODurham Text Line is a resource-sharing tool for young people in Durham under 25 years old. Young people can sign up for the text service and receive weekly updates about the resources and opportunities available to them. Texts will be in English and Spanish, and will include a phone number in case help is needed to navigate any of the resources shared. Young people can sign up on our website at https://DurhamNC.gov/YODurhamText. Those without web access can text "yodurham" to 919-213-0691.


From the Office of Natalie Murdock…
Durham, NC – The Housing Opportunity and Prevention of Evictions (HOPE) Program is a new statewide initiative that provides rent and utility assistance to eligible low- and moderate-income renters experiencing financial hardship due to the economic effects of COVID-19.
The new program will help prevent evictions and utility disconnections in order to promote housing stability during the ongoing pandemic. HOPE is an initiative of the NC Office of Recovery and Resiliency, a division of the North Carolina Department of Public Safety.
The HOPE Program will provide $117 million for rent and utility assistance for renters who have been affected by the coronavirus pandemic, have a current household income that is 80 percent of the area median income or lower, and are behind on their rent or utilities when they apply.
Renters can apply for utility assistance, rent assistance, or both programs. Rent assistance is paid to the landlord on behalf of the applicant. This includes overdue and future rent payments, for up to six months. At least one month's rent must be overdue at the time of application.
Utility payments will be made directly to the utility provider for up to six months of past-due essential utilities, such as electricity, water, sewer/wastewater, natural gas, and propane.
For more information and to apply for the HOPE program click here.

The HOPE Network (DPS Foundation)
The HOPE Network website allows you to connect directly with community organizations and resources, as well as request volunteers if you have an idea that can benefit your DPS students.