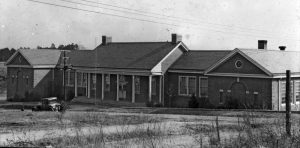 The Lyon Park School opened for the 1922-1923 school year to serve children of the African-American and predominately blue-collar families living in the West End of the City of Durham.  Durham's Black community and other visionary residents generated $5,500 ($400 from the community, $4,000 from public funds, and $1,100 from the Rosenwald Fund) to construct a school on the two-acre site.  For over 60 years, The Lyon Park School served Durham's West End community through World Wars, political turmoil, civil unrest, and times of prosperity as the educational, recreational, and social hub of the West End.  Then, as so often happens, the school was closed and sat for many years.  The boarded-up building was vandalized and became an eyesore to the community.  When schools and community centers are closed, communities change.  Longtime residents moved, homes were boarded up, crime and drugs entered the community which caused community residents to become disenchanted and disappointed.
Pastor Fredrick A. Davis spearheaded a group of forward-thinking members of the congregation of First Calvary Baptist Church, which had served the community since 1884, and other community members in the effort to reclaim the abandoned school.  This group of visionaries believed that the abandoned building could once again serve as the hub of the community and revitalize Durham's West End.  The West End Community Foundation, Inc. (WECF), formerly named Calvary Ministries of the West End Community, Inc. was established as a 501 (c) 3 nonprofit organization (1993) and under the leadership of Pastor Davis, WECF approached the City of Durham to convince the citizens of Durham that partnering to restore the building both financially and collaboratively would be a worthwhile endeavor.  In 1996, the citizens of the City of Durham agreed and approved a $6.4 million bond to pay for renovations to the school.  The building was beautifully renovated and renamed the Community Family Life and Recreation Center at Lyon Park, opened to the community in 2002.
As a result of the renovation to the center, the West End community has seen a tremendous revitalization.  Since its reopening in 2002, the neighborhood has realized ongoing rebirth and growth through education, community development, health care, and human enrichment activities conducted at the center.  The Community Family Life and Recreation Center at Lyon Park stands as a testament to the role the Lyon Park school and community have played in Durham's history.